Testimonials
Testimonial from Lukasz Kwapisz

First and foremost, I would like to thank you not only as a player but as a person. You have been a constant help, support-figure, and a man to admire.
Your commitment is unquestionable. You are a modern advocate for amateur sports in Canada and all of your hard-work and dedication has impacted on a vast amount of youth. Your level of expertise is only matched by the relationships that you form with your players.
It has been a pleasure to know you personally, I have always been fond of your coaching and passion for the game. Those qualities are hard to come-by and a real testament to the person you are within. Coach Graham, or Bob, as we the players knew him was the technical director at our club. Soon he became our coach, and the championships started rolling in. He not only pushed us to greater limits, but also expanded our horizons when it came to our futures.
When we embarked to Dallas in 2003, a lot of our dreams have come true. Even though we didn't win the tournament (our only loss came to Tigres the eventual winners), we certainly grew as a team and a lot of us received athletic-scholarships to many schools in the United States.
My future has been shaped and improved by this man, I will forever be in debt with gratitude to you Coach Graham. I hope one day, that we, as all your past players will be able to make you proud, and be a reflection of the man who you taught us to be.
Respectfully,
Lukasz Kwapisz
Testimonial by our former Academy player Ethan Vigario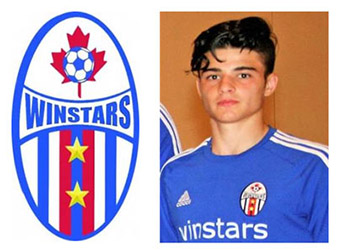 Hello, I am Ethan Vigario, a former player of Bobby Graham. What I have to say is straight forward, easy to comprehend and to the point. If you are looking to get to a college on scholarship and if it is a serious dream / goal of yours then I recommend going nowhere else other than Winstars.
Not only does Bobby and all the coaching staff provide a professional training environment for significant development, but they also treat you like their son. It is a family like no other and definitely stands out from the rest. Bobby likes great footballers, but also great people and that's why you don't see 1000 kids in his academy, you only see. Around 40. This is because to him it isn't about the money, he cares about you and your future.
I hope you end up taking up this opportunity, regardless of how far or close you live. I traveled 2 hours to get to training and Bobby and the academy made it more than worth it.
Ethan Vigario, Former Player of Coach Graham