Jeremy Wits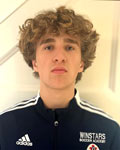 Personal Information
Graduation Year: 2025
Position: CB
Address: 819 Catcay Crt, Mississauga ON L5J 4E4
Phone: 905-467-5207
Email: jeremy.wits07@gmail.com
Personal Strengths & Goals
Strengths:
IQ, passing, defending, vision, ball control, physicality, communication, aerial ability, tackling, acceleration
Goals:
My name is Jeremy, and I am a high school student graduating in 2025. I am writing to express my interest in pursuing a degree and playing soccer in the US or Canada at the college/university level.

I have been playing competitive soccer the age of 6 and have a deep love and passion for the sport. Over the last 4 years I have been a part of the Ontario Player Development League (OPDL), which has allowed me to improve my skills, knowledge, and understanding of the game at a high level. I also attend St. Martin's Secondary School - and am part of the Regional Sports Program.

As a student-athlete, I possess a range of traits that you will find desirable in a team player. I am a dedicated and hardworking individual who is committed to achieving success on and off the field. I am an excellent team player and thrive in a team-oriented environment. I possess strong communication skills and am able to work effectively with teammates, coaches, and staff to achieve common goals.

Most importantly, I am extremely motivated to excel both academically and athletically. I believe that education is crucial to success in life, and I am committed to achieving my academic goals while also playing soccer at a high level. I've also volunteered over 130 hours to helping kids in the community.

Athletic Information
Date of Birth: May 30, 2007
Height: 6'3"
Weight: 175
Dominant Foot: Right
Primary Position: CB
Secondary Position: CDM
Years Playing:11
Years of Rep Soccer: 7
Academic Information
GPA: 3.7
SAT: xxx
References
Bob Graham
Phone: 905-265-1285
Email: winstarssoccer@bellnet.ca
Steven Payne
Club Coach
(519) 217-0359
zulu_steve@hotmail.com
Accomplishments
DECA Member
Junior Soccer Coach Volunteer
Ontario Soccer Referee Grade 3
Summer Soccer Camp Volunteer
Other Athletic Interests
xxxx
Highlight Videos