Aiden Sopov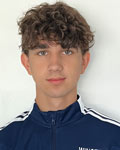 Personal Information
Graduation Year: 2024
Position: Midfielder
Address: 86 Shoredale Drive, Scarborough ON, M1G 3S9
Phone: (647) 985-1855
Email: aidensopov@gmail.com
Personal Strengths & Goals
Strengths:
I have been widely renowned as a highly coachable player, one that has passion for the game and brings energy that is contagious to every session.
On field leadership and distribution are some of my major strengths as a player. I am a highly dynamic player in the attack and have a knack for being in the right place. I play box to box and use my strong positional awareness effectively, taking opportunities when they present themselves.
Goals:
I am looking to commence post secondary education in the fall of 2024 with an interest in business studies. Playing soccer at the university level or higher is an equally important goal as I strive for success through continuous improvement and development on and off the field.
Athletic Information
Date of Birth: August 2, 2006
Height: 6' 3"
Weight: 166 lbs
Dominant Foot: Right
Primary Position: CAM
Secondary Position:CDM
Years Playing: 13 Years
Years of Rep Soccer: 8 Years
Academic Information
GPA: 3.83
SAT: N/A
Accomplishments
Sports achievements:
2023 Thornhill Soccer Challenge Cup Champion
2023 Exact Sports N.East Boys Academic 50 ID Camp Champion
2020 Knights of Columbus Freethrow Champion
2019 TCSAA Flag Football champion (MVP)
2017-2018 TCSAA East Region Soccer champion
2017 Last 1's standing basketball champion
2017 High Jump Regional 2nd (4th in City)
2017 200m Sprint Divisional champion
2016-2017 TCSAA East Region Track & Field champion
2016 Buffalo Storm AAU invitational tournament champion
2016 York South Silver Knights basketball finalist
2016 Oshawa Turul Soccer Tournament champion
2016 Canadian Youth Basketball League (CYBL) all star
2015 Ontario Basketball Assoc (OBA) division 8 cup champion
2015-2019 Cross Country runner - repeatedly placing in divisional and regional with advancement to City finals
Other Athletic Interests
Basketball & Volleyball
Highlight Videos