Michael Plesca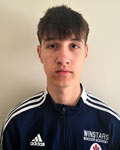 Personal Information
Graduation Year: 2024
Position: Right Back
Address: 123 Beechborough Cres, East Gwillimbury
Phone: 647-767-2476
Email: plesca.michael@gmail.com
Personal Strengths & Goals
I am a hard-working individual who isn't afraid of a challenge, I would describe myself as an ongoing and coachable player.
Some of my strengths include my technical abilities, I can create opportunities for my teammates with my passing. Defensively I am strong on and off the ball, with good footwork and positioning.
My goals are to pursue D1 soccer in the US while continuing to maintain a good work ethic in school. In school, I want to pursue business, marketing, and management in sports.
Athletic Information
Date of Birth: May 24, 2006
Height: 6' 1"
Weight: 160 lbs
Dominant Foot: Right
Primary Position: RB
Secondary Position: LB
Years Playing: 12
Years of Rep Soccer: 8
Academic Information
GPA: 4.0
SAT: xxx
References
Bob Graham
Phone: 905-265-1285
Email: winstarssoccer@bellnet.ca

Steve Stellatos
Phone: 416-834-5791
Email: stevestellatos@gmail.com
Accomplishments
2022 - Challenger Cup 1st Place
2022 - MIP Award
2019 - Best Soccer Team Award
2013 - 2021 Newmarket United Rep
2018 - 1st Place Satnding Long Jump
2018 - Relay 3rd Place
2015 - 2018 Crosscountry
2018 - Crosscountry 4th Regional
2018 - 2nd Place HOY Tournament