Ronnie Patton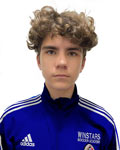 Personal Information
Graduation Year: 2024
Position: Center Back
Address: 13 Plains Road, East York, Ontario, Canada M4J 2P9
Phone: 647-984-3909
Email: ronniepatton06@hotmail.com
Personal Strengths & Goals
I am a responsible, reliable & trustworthy person on and off the field. My goal is to play D1 University/College soccer, graduate and go on to play the highest level I possibly can.
Athletic Information
Date of Birth: September 24, 2006
Height: 6 ft
Weight: 150 lbs
Dominant Foot: Right
Primary Position: Center Back
Secondary Position: Left / Right Back
Years Playing: 11 Years
Years of Rep Soccer: 3 Years
Academic Information
GPA: 84.8%
SAT: n/a
Accomplishments
Volunteer Trainer for Wexford Rec League
Other Athletic Interests
– Grade 6 – Male athlete of the Year
– Grade 8 – Male athlete of the Year
Highlight Videos
Not available at this time.