Dominic Grande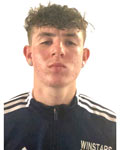 Personal Information
Graduation Year: 2022
Position: Striker/LW/RW
Address: 2 Seymour St. Woodbridge, Ontario L4L 0L6
Phone: 647 563-3440
Email: dominicgrande2004@gmail.com
Personal Strengths & Goals
Strengths:
Healthly lifestyle
Team player
Focused on setting goals and achieving them
Determined to succeed
Goals:
Becoming a professional soccer player. Also possibly playing for TFC in-front of thousands of fans and that would not only be my goal in life that would also be a dream.
Working hard, playing soccer and being better at it. My focus is to improve on the shooting wise, passing wise, dribbling wise, pace wise, and stamina wise. Showing up to practice everyday and giving my 100% when I step on to the field either at practice or a game.
Athletic Information
Date of Birth: October 6, 2004
Height: 5'9"
Weight: 140 lbs
Dominant Foot: Right
Primary Position: Striker
Secondary Position: Left Wing or Right Wing
Years Playing: 14
Years of Rep Soccer: 8
Academic Information
GPA: 80%
SAT: N/A
Accomplishments
Graduated with my OSSD diploma
Received Honors in Grade 11
Awarded highest mark for Grade 11 Religion
Received the Healthy Living Award in Grade 12
Won Woodbridge Strikers Championships in 2013
Other Athletic Interests
Some other athletic interests I have is working out, doing push ups, sit ups, and lifting weights. I also like going for a run when I can. Mostly just playing soccer, and if I want to I could play basically any sport when I focus on it. But if I had to pick a sport after soccer it would be playing basketball and hockey.
Highlight Videos