Alexis Garcia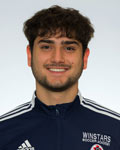 Personal Information
Graduation Year: 2022
Position: Center Midfielder
Address: 72 McClellan Way, Aurora, Ontario, Canada L4G 5T8
Phone: 289-500-6262
Email: alexisjosegarcia.ag@gmail.com
Personal Strengths & Goals
I'm a very disciplined player who's always willing to find ways to improve. I'm a great listener and student of the game – which allows me to adapt to any playing style necessary. I possess a strong and aggressive presence on defense, as well as being quick and technical on the ball. I consider myself to be an intelligent player, specifically when timing my tackles, anticipating the play, and intercepting passes. I have great vision as I am aware of my space, time, and options both on and off the ball. Aside from qualities on the field, I consider myself a confident individual, making it easier to effectively bond and communicate with my teammates. My goal is to get a scholarship to a top D1 University in the United States, while also assisting my teammates to achieve their soccer goals as well.
Athletic Information
Date of Birth: February 3, 2004
Height: 5' 11"
Weight: 175 lbs
Dominant Foot: Right
Primary Position: Centre Midfielder
Secondary Position: Left/right Midfielder, Striker, Centre back
Years Playing: 12 Years
Years of Rep Soccer: 10 Years
Academic Information
GPA: 80%
SAT: n/a
Accomplishments
– Portugal 2017 showcase
– EDP Canada Qualifier 2019 Finalists
– National league EDP Conference Boys Showcase 2019
– Champions Showcase 2019 Finalists
– The robbie international tournament 2019 semi-finalists
– Umbro Top Rated Showcase Champions 2019
Other Athletic Interests
– Assistant Captain of Rexdale United FC
– Member of Cardinal Carter High School soccer team
Highlight Videos
Not available at this time.