NOLAN FREEL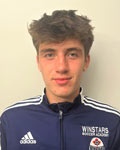 Personal Information
Graduation Year: 2023
Position: Goalkeeper
Address: 28 Royal Orchard Cres.
Phone: 905-933-8176
Email: nolanfreel97@gmail.com
Personal Strengths & Goals
My strengths are: I am very coachable on and off the field, I show dedication towards both my team and my coaches. I am very vocal and loud when communicating with my teammates. I am very respectful towards everyone around me in my environment. I show self motivation and I show leadership in my daily life. (see article below)
https://www.bpsportsniagara.com/phoenix-and-reds-battle-to-draw/
In game strengths:
I am willing to sacrifice my body to make a save.
I will do what it takes to put my team before myself.
My biggest strength is my shot stopping and my domination in 1v1 situations.
I have confidence when playing and don't let one mistake define me as a player.
I am quick and very flexible.
I am adaptive to many situations.
I do well with reading a play before it is made.
I enjoy having the pressure on me when others are doubting.
Short term goals
1. Improve my gpa
2. Improving my diet
3. Building muscle
4. gain more hip mobility
5. increase speed and gain more balance
Long term goals
1. Play college soccer
2. Play for a top 5 professional league
3. Represent the Canadian mens national team
4. Furthering my education in sports media and broadcasting

Athletic Information
Date of Birth: April 14, 2005
Height: 6.0 ft
Weight: 150 lbs
Dominant Foot: Right
Primary Position: Goalkeeper
Secondary Position: xxxx
Years Playing: 13
Years of Rep Soccer: 7
Academic Information
GPA: 86.4%
SAT: xxx
Accomplishments
Captain of my varsity high school hockey team.
Captain of my varsity high school soccer team.
Coached young hockey and soccer players.
Won multiple titles with my hockey, soccer and volleyball teams.
Other Athletic Interests
Hockey
Running
Volleyball
Squash
Highlight Videos