Ethan Wright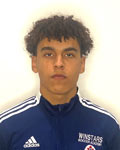 Personal Information
Graduation Year: 2024
Position: Attacking Midfielder
Address: 1257 Blencowe Cres, New Market, On
Phone: 647-569-1846
Email:
Ethanw1846@gmail.com
Personal Strengths & Goals
Field Vision, Strong Technical Skills, communication, Accuracy with both feet, Team Work, Leader, Adaptability and Multi-Tasking, sense of Humour.
Short/Long Term Goals:
Post Secondary Education W/Football – North American or European University or Academy,
Canadian Provincial Team, Canadian National Football Team, Professional Soccer Contract, MD Degree – Sports Medicine.  
.
Athletic Information
Date of Birth: February 1, 2006
Height: 5'9"
Weight:155 lbs
Dominant Foot: Right
Primary Position:Attacking Midfielder
Secondary Position:Centre Midfielder
Years Playing:12
Years of Rep Soccer: 8
Academic Information
GPA: 4.0
SAT: N/A
Accomplishments
2013- 2016 Newmarket Soccer Club – Rep Competitive Division
2015 – 2016 3rd place finish in the YRSL, Team Captain
2015 – 2018 Regional Finals for Boys 100. 200. 400 Meter Cross Country
2017 -2018 High School Basketball & Volleyball Champions
2016 – 2018 Aurora Football Club – Rep Competitive Division
2016 – 2018 Team Placement of Top 3 in the YRSL
2017 – 2018 Crusaders Cup Gold League Michigan USA – Champions
Elected Tournament Team Captain
Boys 2004/2005 International Tournament
2017 Pure Touch Academy Canada – Portugal Champions
2019 – 2022 Bogart Public School Male Athletic Award Winner
Elected Team Captain for Game 3 against Benfica Academy
2021 – 2022 Team Captain for Aurora OPDL U17
2022 – Italy Showcase
Other Athletic Interests
Basketball
Track & Field
Volleyball
Golf
Highlight Videos