Banquets
Winstars Christmas Dinner - Sunday December 12, 2021
Lazzurra Ballroom
80 Regina Road,
Unit 22-25
Woodbridge Ontario
Tickets: $100 each
2 Tickets: $200
3 Tickets: $300
10 Tickets: $1,000
OUR ANNUAL SHOWCASE - Thursday December 19 & Friday December 20, 2019



We will have two teams a Junior and a Senior academy team – all players will participate.
$795 per player. Cost of each academy player to participate in our 2019 Showcase
HELP US AND SUPPORT OUR ANNUAL SHOWCASE DINNER



Showcase Banquet Tickets
Wednesday December 18, 2019
Chateau Le Jardin - 8440 Highway 27,
Woodbridge, ON L4L 1A5
Just a wee note asking for support for our academy showcase, we want to help more players like Ethan achieve his dreams and his goals. Your help is so much appreciated and we appreciate if you can give back to help a very good academy program.
Sincerely, Bobby Graham – Academy Director

Testimonial by our former Academy player Ethan Vigario – now on Full Scholarship at St. Francis University – Ft. Wayne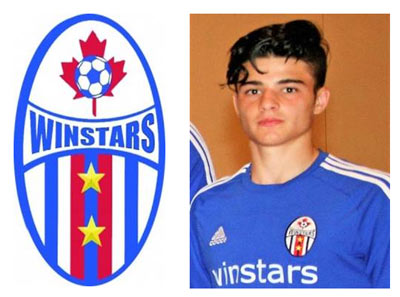 Hello, I am Ethan Vigario, a former player of Bobby Graham. What I have to say is straight forward, easy to comprehend and to the point. If you are looking to get to a college on scholarship and if it is a serious dream / goal of yours then I recommend going nowhere else other than Winstars.

Not only does Bobby and all the coaching staff provide a professional training environment for significant development, but they also treat you like they son. It is a family like no other and definitely stands out from the rest. Bobby likes great footballers, but also great people and that's why you don't see 1000 kids in his academy, you only see. Around 40. This is because to him it isn't about the money, he cares about you and your future.

I hope you end up taking up this opportunity, regardless of how far or close you live. I traveled 2 hours to get to training and Bobby and the academy made it more than worth it.
Ethan Vigario.
Former Player of Coach Graham
Showcase Banquet Tickets
Wednesday December 18, 2019
Chateau Le Jardin - 8440 Highway 27,
Woodbridge, ON L4L 1A5
SHOWCASE BANQUET 2018


It was real special to have two of our former players who are now Professional Players come and join us at our recent Showcase Banquet. Both Dejan Jakovic and Milovan Kapor went to play NCAA Division 1 Soccer at UAB and UMBC and then went Pro. It was amazing how their presence was so important to our future academy players.
| | |
| --- | --- |
| | |
| | |
| | |
| | |
| | |
| | Click on Team Picture to Enlarge |



1 Ticket - $100.00
2 Tickets - $200.00
3 Tickets - $300.00
10 Tickets - $1000.00
We ask each of our families to purchase 3 tickets to support our showcase
Showcase Banquet Tickets Wednesday December 19, 2018
Dinner Banquet will be held Wednesday December 19, 2018 at
Chateau Le Jardin - 8440 Highway 27, Woodbridge, ON L4L 1A5
For Directions & Map Click Here
Winstars focus is all about preparing and developing players to be successful at the Collegiate level. We train hard during the year, but also have fun especially during our trips, like our Summer Tour of U.S. universities. In December each year, at the end of the Winstars Showcase, we celebrate our achievements with a Banquet. It gives us the chance to look back over the year and remember the highlights. We also have a really great time!