Zachery Greson Joseph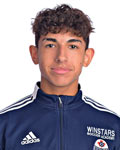 Personal Information
Graduation Year: 2023
Position: Midfielder
Address: 6 Chestnut Dr, Unit 17, Grimsby, On, L3M 0C4
Phone: (905) 466-5921
(905) 516-5921
Email: zachery.mewex.joseph@icloud.com
Personal Strengths & Goals
Strive to continue my Academic acheivements in persuit of obtaining a D1 Soccer Scholarship with the aspiration of becoming a Professional Player.
.Focussed, self disciplined, confident and competitive individual with a passion for Soccer. I possess a strong work ethic, supported by core values of respectfullness, honesty and integrity. I endeavor to maintain physical, mental and spiritual balance in my daily life in an ongoing effort to better myself
Athletic Information
Date of Birth: October 13,.2005
Height: 6' 0"
Weight: 150 lbs
Dominant Foot: Right
Primary Position: Centre Attacking Mid
Secondary Position: Centre Mid
Years Playing: 10
Years of Rep Soccer: 6
Academic Information
GPA: 4.0 (92% Average)
SAT: TBD
Accomplishments
2017 - Gothia Cup (Sweden) - GPS Canada -Player
2019 - MIC Cup (Spain) - GPS Canada - Club Captain
2020 - NYC Cup Showcase Champions - Player
2020 - 3V3 Streetball Champions - Player
2022 - Blessed Trinity High School Science Olympics Champions
2022 - Winstars Soccer Academy- Umbro Top Rated Showcase - Men's U18 Super Elite
Other Athletic Interests
OFFSA - Ontario Federation Of School Athletic Associations
2021 - High School Cross Country - Team Placement of 4th withh an overall placement of 52nd with a personal best time of 22 minutes in 6 kms.
2022 - NCAA - Zone Champions - Blessed Trinity High School soccer team.