Jon-Michael Gordon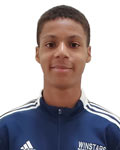 Personal Information
Graduation Year: 2023
Position: Center Attacking Midfielder
Address: 42 Martell Gate, Aurora, Ontario, Canada L4G 0A3
Phone: 905-727-0475 (Home), 647-273-5268 (Cell)
Email: jmgdballer@hotmail.com
Personal Strengths & Goals
I am quick thinking, attack minded team first player always reading the field and looking for an opening to penetrate the opponent's defense. Using my control and on the ball skills, vision and short/long range passing, I can quickly advance the ball creating opportunities for my team.
My goal is to play at the highest level in international football as well as eventually with highest achievement in education, operate my own business.
Athletic Information
Date of Birth: February 11, 2005
Height: 5' 10"
Weight: 144 lbs
Dominant Foot: Right
Primary Position: Center Attacking Mid
Secondary Position: False 9 / Striker
Years Playing: 13 Years
Years of Rep Soccer: 7 Years
Academic Information
GPA: 4.0
SAT: n/a
Accomplishments
– 2019 – OPDL Charity Shield Champions – WSC
– 2019 – Lou Ramos Classic Finalists – WSC
– 2019 – Jefferson Cup Champions – WSC
– 2018 – U13 Concacaf Champions League Quarter Finalist – TFCA
Other Athletic Interests
n/a
Highlight Videos
Highlights not available at this time.